Technical Support
Penn Emblem has an experienced technical support service team who can assist with any questions on heat seal applications, product knowledge or how to load a machine. Please refer to our technical support videos or tech sheets for more information.
border

Contact Penn Emblem for support on all products and services.
For Products Please Contact
Aaron Singh

800-793-7366, Extension 8720

aarsig@pennemblem.com
Eric Kramer

800-793-7366, Extension 3998

ekramer@pennemblem.com
For Web Applications Training Please Contact
border

technical support videos

Check out our Technical Support Videos for quick tutorials on emblem placement, heat sealing emblems and properly caring for your machines.

Bottom Heat Sealing Tutorial from Penn Emblem Co

Tips for Heat Sealing Thicker Garments

Tips for Proper Emblem Placement

The Do's and Don'ts of Heat Sealing Emblems

Top Heat Sealing Tutorial
border

Heat Seal Application Parameters for All Products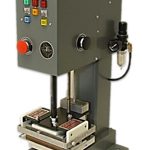 Technical Settings for Heat Seal Application
All Penn emblems may be sewn or heat applied. If you heat apply these emblems, you must be aware of the performance characteristics of your heat seal machines. The proper bonding temperature is 405°F – platen surface. The bonding time will vary depending upon the power of your machines. A machine with a 3″ cylinder, 4 x 6 platen and supplied by 80 lbs per sq. in. of air for example, will bond Penn Bond 2000® emblems in 14 seconds. More powerful machines will bond in less time.
Download Specifications for the Heat Press
border

SETTINGS FOR HEAT SEALING (AIR PRESSURE ON ALL = 80 PSI)

The above information is a recommendation only. There are circumstances which may be different. Please check on information not listed above.
border

downloads

Technical Specifications for Custom Embroidered Emblems

Download

Technical Specifications for ColorPrint™ Sublimated Emblems

Download

Technical Specifications for Flame Resistant Emblems

Download

Technical Specifications for Blank Emblems

Download

Technical Specifications for PennTrans™ Heat Transfers

Download

Heat Seal Parameters for ExpressPrint T7 Label Tape

Download

Specifications for the Heat Press

Download