3 Ways to Help Teams Get Ready for Game Day with Sublimation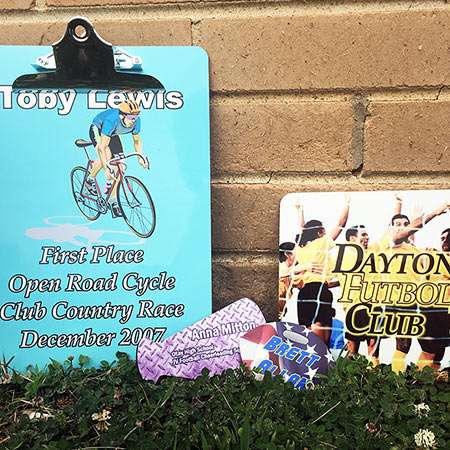 Looking to expand and get your business connected to your community? Sublimation makes it easy to score with sports teams. With the versatility of blank imprintables, it's easy to reach out to community sports teams and turn a bigger profit on these products. There are many ways that these items can be used to expand your business to a new and rewarding market.
Awards
Recognizing achievements is a significant part in team sports at any level. Whether it's at an end-of-year banquet or a tournament, awards give teams a sense of accomplishment and a keepsake to remember their effort. Sublimatable awards can be customized with team, event, and player names with very little additional cost to the printer, making it easy to sell for a higher profit. There are a variety of different blank plaques to choose from, making it possible to reach a variety of different customers.
Fundraising
Many community and school sports teams need to find ways to raise money for trips, events and equipment. Water bottles, bag tags, t-shirts, and mugs are especially good for fundraising because they have practical use (why is practical use important for this?). Blank imprintables can be personalized to the team or school making their perceived value greater and making it easy for both teams and printers to easily make a profit.
Giveaways

Everyone likes to receive free stuff, especially to represent their favorite sports team or school. Team colors, logos, and messages can be printed onto product giveaways with full image reproduction for a low cost. Fans and players can enjoy these products all while increasing the team's brand awareness. During games, teams can hold contests and give away sublimated imprintables as prizes. Inexpensive options include keychains, magnets, and buttons.
Introducing your business to the team sports industry is easy with sublimation. Reach a whole new audience and help your community sports teams and schools meet their fundraising and giveaway goals.

Everything you need to get started is available from ImprintsUSA, your one-stop-shop for blank imprintables and sublimation systems. Order your blank imprintables and sublimation systems from www.ImprintsUSA.com, a subsidiary of Penn Emblem Company. Email Lynne Kaplan, the sublimation expert, for any questions or inquiries on how to be successful with sublimation.