5 Decorated Corporate Gifts Your Employees will Love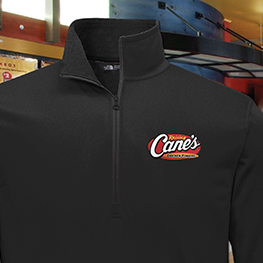 Tis the season to start getting ready for corporate holiday parties and events. Company branded apparel is a classic corporate gift that keeps on giving the whole year. Decorated corporate gifts and branded apparel gives employees a sense of belonging and fosters team spirit, all while being a free promotional item outside of the office. There are numerous apparel options to decorate with your brand for holiday gifts, here are a few of our favorites and some embellishment options to pair with them.
Outerwear
With the weather drop, outerwear is a great holiday gift to keep employees warm during the cold seasons. PennFlex™, Penn Emblem's newest branding solution, is a high-resolution three-dimensional embellishment that recreates logos and artwork in full color. These kinds of patches have roots (rephrase?) in the sports and retail industries, giving garments a stylish and eye-catching look. PennFlex™ patches can be heat sealed to outerwear within seconds.
Decorated Blankets

Another warm weather staple and a more economical gift option is decorated blankets. Blankets can come in a variety of different colors and styles and are a very popular gift for the holidays. Put your customer's logo on the corner of the blanket with Direct Embroidery for a very classy and prestigious gift option. Direct Embroidery is classic embellishment option that has been around for years and adds a perceived higher value to a garment or accessory.
Hats
Decorated hats will always be a fashion staple and are an easy and affordable corporate gift for all of your customer's employees. In the past, Direct Embroidery has been a traditional embellishment choice for a lot of hat wearers, but as a more economical alternative, embroidered appliques can simulate the same look.
Mugs
As the weather gets cooler, beverages get hotter. Decorated mugs of all styles make great corporate gifts and are something that can be used all year long. Domed embellishments paired with mugs add dimension to catch the eye. These patches can come with a pressure sensitive backing that makes it easy to stick them permanently onto a variety of surfaces including mugs.
Backpacks
Backpacks make great holiday gifts, making it easy to fill them with other fun gifts especially for employees on the go. Patches made of flock materials are very durable and will hold up through whatever adventures the backpack might trek on. They print logos in full photo-realistic detail, so they work especially well for companies with complex logos and artwork.
Penn Emblem Company is the leader in cutting edge apparel branding solutions. Learn more about how to decorate your customer's corporate gifts in time for the holidays with Penn Emblem Company. Contact our customer support team by email at ssales@pennemblem.com or by phone at (800) 793-7366 to get started today.