DECORATION ON PAR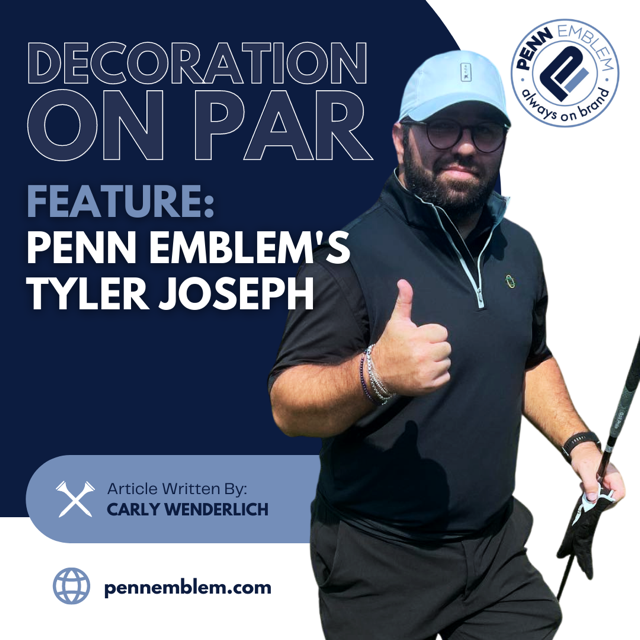 From the pros to a popular hobby, the game of golf has historically been a widely held sport, but only recently did it become more mainstream and prevalent, specifically amongst the millennial generation. In March 2020, when the world shut down due to COVID-19, most sporting events and arenas were cancelled or closed. However, amidst the chaos, golf, being a socially distanced, outdoor sport, was able to prevail. "The NGF count showed 24.8 million golfers in the U.S. in 2020, an increase of 500,000 and 2 percent over 2019 which is the largest net increase in 17 years." (Golf Digest, Stachura)
In addition to the pandemic resilience, camaraderie, mental health, and physical health of America's favorite past time, golf also serves as one of today's premiere branding platforms in sports. From unique attire to personal gear, branded decorations have seen a recent rise to the spotlight in the world of golf. Not only are fans viewing their favorite player's brand choices on national TV, but also on every social media platform. With golf's growing youth popularity, the visibility of the game and the branding has skyrocketed.
Penn Emblem's Marketing Manager, Tyler Joseph, has been an avid golfer since age 6. Tyler learned to play alongside his father, Jon Joseph, Senior Vice President of Sales and Business Development at Penn Emblem. Together, the duo played at Philmont Country Club and eventually Green Valley Country Club, consistently elevating their skills and bonding along the way. Tyler has since been a part of the Philadelphia Golf Association, competing in, GAP, PA, USGA tournaments, and country club held tournaments. Most recently, Tyler qualified for the PA Mid-Amateur at HVCC, and was this year's runner up in the Green Valley Club Championship.
One of Tyler's favorite aspects of the game, in addition to the competitiveness, is the gear. "I collect almost everything from each golf club I play at. I have a collection of over 50 needlepoint belts from clubs I have played and my life goal for golf is to play all top 100 golf clubs in the world," says Joseph. So far, Tyler has 17 of the 100 crossed off his list. One of the first things he does at each club location is stop at the pro shop to browse the variety of decorated garments, hats, and headcovers. Most everything in a pro shop is decorated in one fashion or another. Direct Embroidery dominates the game with club and tournament logos; however, recently, embroidered emblems and woven emblems have been on the rise.
Branding plays a significant role in the golf world. Not only do professionals have sponsorship obligations, but amateur golfers also enjoy representing their home club or course during tournaments and recreational games with companions. Popular decorations include polo shirt insignia, hat embroidery, bag tags, embroidered belts, and shoe labels. In addition, golfers often carry towels alongside other accessories such as gloves and personalized golf balls.
While some still view golf as an old man's sport, those with their eye on what's trending know that golf is just beginning to get the publicity it deserves. From community to business, golf offers something for everyone, especially for brand decorators.
Works Cited
Stachura, Mike. "The Numbers Are Official: Golf's Surge in Popularity in 2020 Was Even Better than Predicted." Golf Digest, GolfDigest, 7 Apr. 2021, www.golfdigest.com/story/national-golf-foundation-reports-numbers-for-2020-were-record-se.
patches patch emblem decoration golf trends amatuer sports direct embroidery emblems