Penn Emblem Company takes home the 2023 NAUMD Innovation Awards for PennFlex™ and PVC emblems!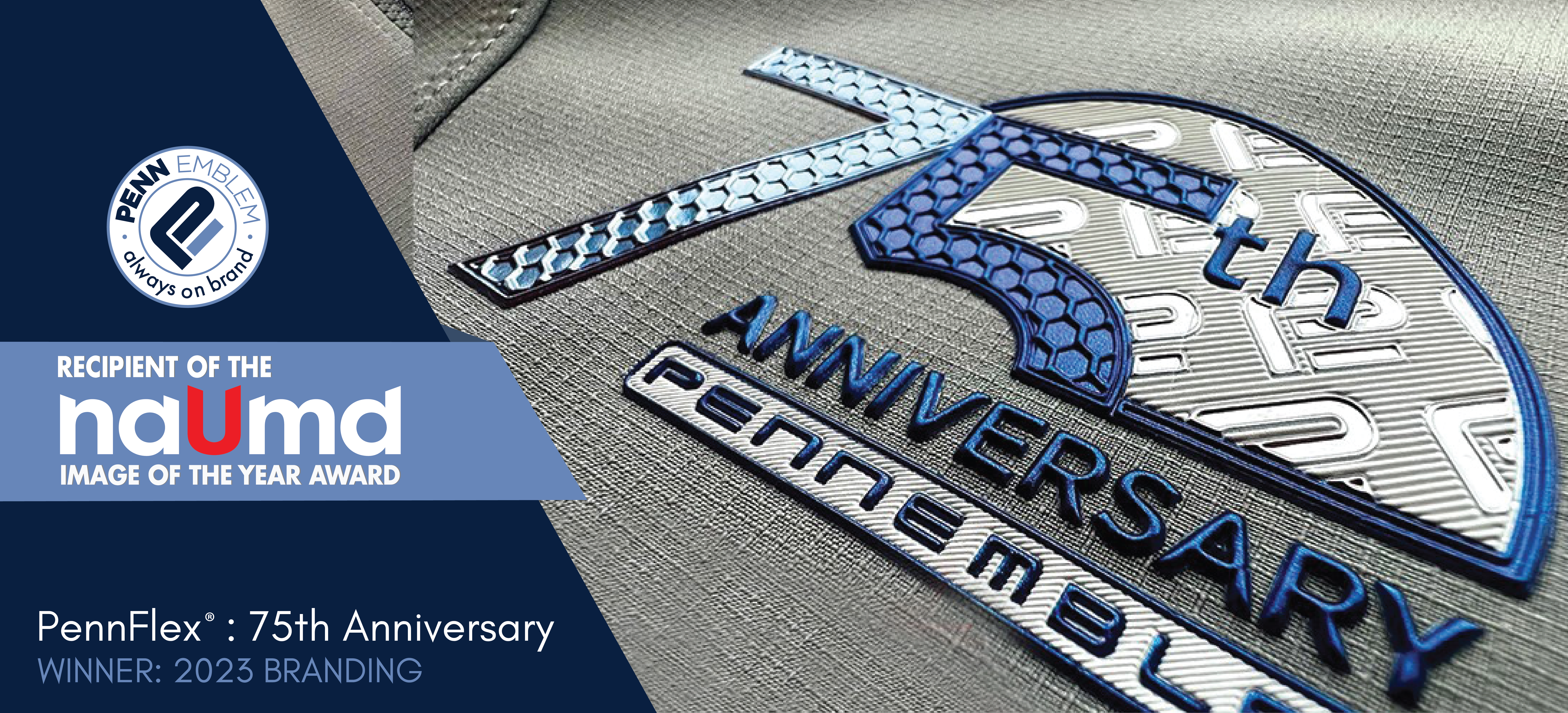 Penn Emblem Company (Trevose, PA) is a 76-year-old textile manufacturing and full-service brand decoration company. With over 50 different decoration options, 13 markets served and 4 global locations, Penn Emblem is America's largest supplier and brand decorator for the rental uniform and promotional product industry.
Penn Emblem recently entered the 2023 NAUMD Innovation Award Contest. The NAUMD (Network Association of Uniform Manufacturers and Distributors) serves the Hospitality, Entertainment, Healthcare, Branding, Promotional Product, Safety, and Uniform Manufacturer companies. The Image Apparel Institute division promotes the manufacturing, sale, and brand awareness of image and identity apparel worn each day by millions of workers. Each year, the NAUMD Image Apparel division hosts a contest for the best of the best in design for a variety of categories including innovation.
One of Penn Emblem's winning submissions was a PVC emblem created for Propper, a leading supplier of uniforms to the U.S. Military, Police, and of Tactical gear, as a promotional giveaway for a recent tradeshow event. They wanted something funny, different, and well-known in pop culture. The concept of the "Dumpster Fire" became famous in the aftermath of 2020's pandemic. People humorously deemed the year a dumpster fire, and today, those who remember the year surely remember the slogan. The design itself appears cartoonish. The use of PVC allows for the design elements to appear three-dimensional and realistic. Propper had overwhelming response to the Dumpster Fire design and said that it was their most popular giveaway to date and they ran out of 2500 patches within the first two days of the show.
PVC emblems have made a vertical bound to the top of consumer's lists when it comes to decoration techniques. PVC emblems are designed in 3D, providing an embossed, dimensional aspect while still offering a smooth surface, therefore delivering a sensory experience for consumers. PVC is an ideal choice for any market because these emblems never fade, crack or peel, maintaining clarity and detail. Utilizing a custom mold, any branding ideas can be created. PVC emblems are removable, flexible, and waterproof to keep consumers moving in all environments and are ideal for tactical gear, souvenirs, promotional products, and more. The three-dimensional aspect of this PVC emblem makes it stand out in the market and literally!
In addition to the PVC Dumpster Fire emblem, Penn Emblem was honored to also accept an innovation award for the PennFlex™ Penn Emblem Logo Design. In 2022, Penn Emblem celebrated it's 75th anniversary of being in business. Penn Emblem Company is a 4th generation family-owned and operated company that got its start in the heart of Philadelphia on North 15th Street. What was once known as Penn Novelty Company, an emblem company providing primarily oval emblems and US Flags, has now become an award-winning, full-service, branded decoration and apparel company.
The PennFlex™ design technique was chosen for the 75th logo because it is one of Penn Emblem's signature, award-winning innovations. Penn Emblem's PennFlex™ is an intricate, thermoplastic emblem that creates a superior, three-dimensional effect for any design. With many customization options, such as a matte or metallic finish, PennFlex™ exceeds standard emblem expectations with its high definition, lightweight and flexible structure. Its durability is matched by its unique attention to details and depth created by meticulous gradients. In addition, the exceptionally thin texture of these emblems amplifies its functionality by allowing the wearer to not only heat seal apply but to sew on as well.
When deciding on the logo that would represent Penn Emblem's 75th Anniversary year, designers decided that it needed to incorporate both a modern image and a nostalgic tribute to one of the vintage logos. The large '75' is the predominant piece of the emblem to showcase the major milestone anniversary. Penn Emblem's 2019 rebrand logo can be seen shadowed in the background, while the previous logo is highlighted below. The staple navy blue and silver colors are utilized in the ornate, three-dimensional details of the innovative PennFlex™ design. The honeycomb design shown in the '75' is a unique style that is not used as frequently but was brought out of the vault for this special occasion.
The PennFlex™ 75th Anniversary logo was used in a plethora of marketing initiatives throughout 2022 as well as on decorated apparel for tradeshows and internal employees. The highlight use of the 75th Anniversary logo was for the multiple anniversary parties we got to celebrate in our three U.S. locations: Trevose, PA, Mira Loma, CA, and Santa Ana, MX. The logo was displayed on shirts for every employee, on backdrops, photobooth backgrounds, cupcakes, bags, and more. Everyone now has the emblem as a keepsake to remember this monumental year and it was just as well received throughout the apparel decoration community.
Penn Emblem is proud to accept these prestigious awards and was honored to be recognized for such achievements. Along with a tremendous line up of anniversary celebrations, great success at tradeshows, and new product innovations, winning the NAUMD Innovation Award is a tremendous accomplishment to end the 75th year. Thank you NAUMD!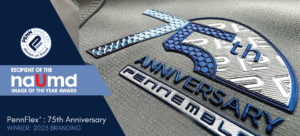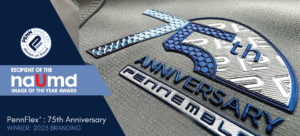 diversity client relations work anniversary working winner hard work company manufacturing teamwork marketing trends charity team Inclusion award