Penn Emblem WBENC Certification 2021-2022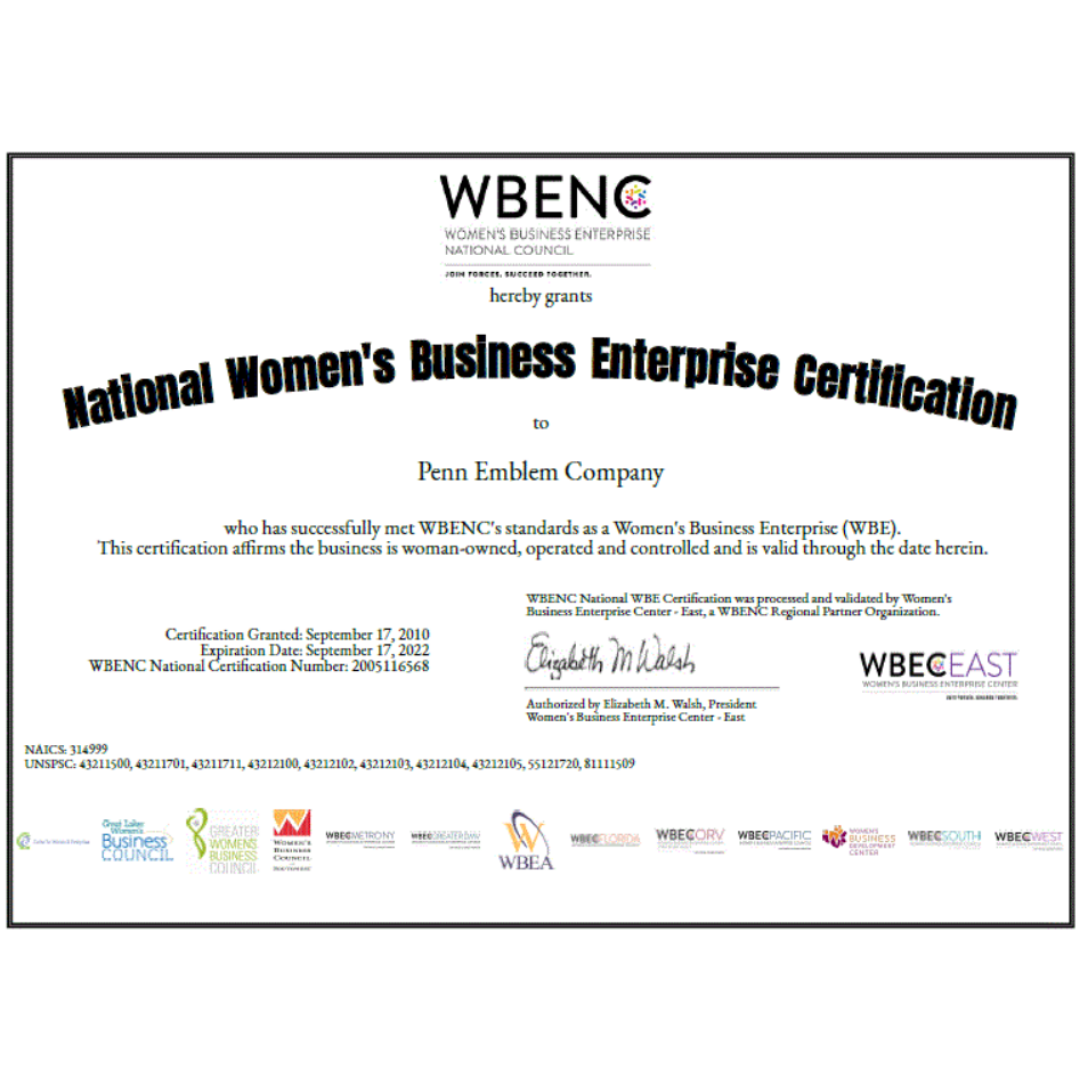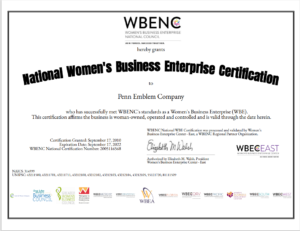 Penn Emblem Company (Philadelphia, PA), a 75-year-old textile manufacturing and full-service brand decoration company, recently renewed their WBENC Certification for the 2021-2022 year in honor of showcasing their diversity in business. Penn Emblem has held membership within the Women's Business Enterprise National Council for 11 years. The WBENC is "the largest certifier of women-owned businesses in the U.S. and a leading advocate for women business owners and entrepreneurs." The organization strives to not only certify women owned businesses, but also connect members for business opportunities.
With over 50 decoration options and serving 13 markets across four global locations, Penn Emblem is America's largest supplier and brand decorator for the rental uniform and promotional product industry. Mirroring the versatility and longevity of their products and services, the company employs roughly 500 loyal, educated team members between its corporate location and manufacturing factories. Employees range from ages 23 to 72 with a plethora of diverse ethnicities, religions, genders, and disabilities. Inclusivity has always been a staple at Penn Emblem Company and having the WBENC certification helps to continuously brand the pride of having such diversity.
WBENC Certification substantiates that a business is 51 percent owned, controlled, operated, and managed by a woman or women. In 2010, Randi Blumenthal-Joseph, granddaughter of Penn Emblem's founder, became the third generation of leadership to continue the legacy of quality and innovation, while also shifting the company to become certified as a Woman's Business Enterprise, to better support clients focused on supply chain diversity, and to proudly represent female leadership. Penn Emblem continues to serve customers worldwide with an ever-growing array of image and identification solutions under Randi's leadership and through the fibers of Penn Emblem's rich history.
In addition to business networking, the WBENC also provides educational seminars, workshops and resources, a network of support and eligibility for various awards and recognitions. For more information on getting certified with WBENC, visit wbenc.org.
Women owned minority emblems small business patches manufactruing patch emblem wbenc Inclusion diversity team sales