Why Patches will NEVER Go Out of Style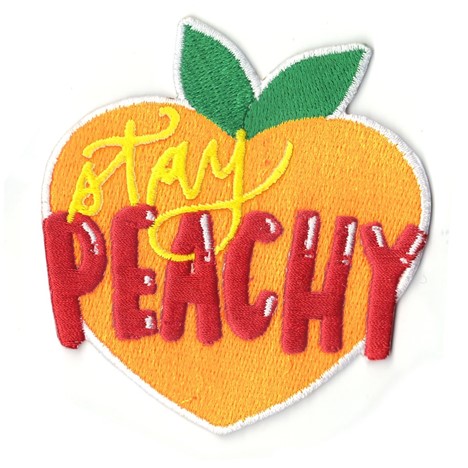 It's a brisk, Spring day in Philadelphia, and people are buzzing about in the glorious, crisp air. It's one of the early Spring days where some people are still in jackets and others are pushing the limit with a t-shirt.
As I get in line for the bus, I can't help but notice the dazzling, army-colored jacket being worn by the woman in front of me. She is stylish in her own right, with her no-effort messy bun placed perfectly, gold Ray Bans reflecting the sun, and her worn just enough high-top sneakers – but THE JACKET, her jacket screams COOL. Not only is the bomber jacket's style and color on point, but what caught my eye was the half dozen, beautiful patches that strategically decorated it.
I secretly inspect each colorful addition and begin to piece together who this fashionable female is. By the Rolling Stones Lips emblem, I can tell she has good taste in music. There's a Chinese takeout box with octopus tentacles coming out of it – she's got a sense of humor. Around the shoulder there's a Ruth Bader Ginsburg wearing a crown and a Black Lives Matter sign, so I know she is interested in female rights and social justice. After viewing a few more stand out decorations, I feel a visceral need to compliment her.
"Hi! I love your jacket; can I ask where you got all of those cool patches?"
For the entire bus ride, we chatted about how she buys an awesome patch wherever she goes and when she sees one that she likes. Sometimes she buys them for herself to add to her favorite jackets and bags, and sometimes she buys them for friends and family who she knows will appreciate the thought. We talked about the meaning behind some of them and our views, and she shared an Instagram page with me for a shop that sold unique emblems. I thanked her for the good conversation, we exchanged Instagram handles and wished each other a great rest of the day.
Just as we started heading in our different directions, I heard my new friend calling from behind me, "Hey, wait up!" She thanked me for chatting and explained how she had felt extremely isolated over the past few months due to the pandemic. "With these masks on," she said "sometimes it's easy to feel invisible, but I'm glad today I was wearing this jacket." She then reached in her bag and handed me a patch that was in the shape of an orange peach that read 'stay peachy'. She had picked it up a few days earlier and had not decided on a home for it yet, but explained that giving it to a new, patch-loving friend seemed fitting.
After thanking her, I walked away feeling empowered, not because I had learned about a new small business or made a new friend or even because I acquired a cool patch, but because if it were not for all of the colorful, enigmatic, thought-provoking patches on that woman's jacket, I most likely would not have gone out of my way to introduce myself, have a conversation and brighten both of our days.
In an age of burying our faces in our smart phone and trying our hardest not to make eye contact with any living soul that walks by, it is refreshing to be able to create an organic connection with a total stranger. Some people don't see patches as a relevant decoration style in 2021; however, patches will never be dated. Why? Because they create real conversation, one that is spoken and exchanged; not typed or messaged. Patches invoke curiosity, they display personality, and they normalize uniqueness – everything the world is in so much need of. Kids today are growing up scrolling through apps for hours being taught how to look, feel, think, speak, dance, walk, and BE a certain way. Patches not only allow people to be themselves, but they also remind us to think back to a different time, reminisce on what is important to us, and to always stay true to ourselves. Patches are a showcase of who we are as a person because the ones you choose to wear represent your interests, passions, adventures, and causes. Just by being yourself, you can make someone's day and connect with them without even saying a word. We never know how badly someone needs a friend, or even just to feel a connection, and in a time when standing close enough to make an acquaintance is outlawed, patches bridge the gap.
Patches will NEVER go out of style, and frankly, the world should be grateful that they won't.
jean jacket style emblems decoration patches fashion patch emblem direct sale decorate apparel clothes uniform