Custom Emblem Backings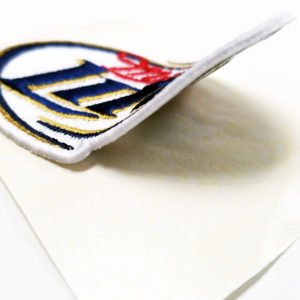 Custom Emblem Backings
Penn Emblem Company provides several applications for emblems to be attached to garments and other textile products. How these emblems can be attached garments varies on the type of backing used, the size of the emblems, and the types of materials the emblems will be attached to. Almost all emblems can be sewn on, but when it comes to heat seal application, smaller emblems are easier to work with.
PennBond® Industrial Backing
Industrial backing is specifically designed to be able to withstand the Industrial Laundry process. Emblems with PennBond® backing can be either sewn or heat sealed onto garments. PennBond® is the recommended backing for emblems being used in the Rental Uniform Industry. Industrial adhesive backing has been tested for up to 50 wash cycles.
Low Melt Backing
Low-Melt backing heat seals at low temperatures without doing damage to the garment. Suitable for home laundry only, Low-Melt backing can be used in the majority of industries to heat seal emblems to apparel and accessories. Low Melt backing has been wash tested for up to 25 wash cycles.
Pressure Sensitive
Pressure sensitive backing is a temporary peel and stick adhesive that can be applied to apparel and accessories for a temporary embellishment option. Pressure Sensitive emblems can be peeled off at the end of events and promotions without doing damage to the garment.
Velcro
Velcro backings are available for industries where removing and reapplying patches is frequent. Used often in military applications, Velcro patches make it easy to changes patches on uniforms when necessary.
Heat Seal Notes & Tips
Thicker Fabrics may require longer cycle times beyond the ranges
Treated Fabrics finished with coatings, sizing or repellents may not allow for the proper heat seal bonding.
Items made with leather, suede, nylon, synthetics, nylon-shell, interlinings, rubberized coatings, and reflective fabrics, such as jackets and luggage, may react poorly to heat seal temperatures depending on thickness, weave, texture and weight. IT is recommended that these fabrics be tested first, with possible heat seal time and temperature adjustments. In many cases, it may be better to have emblems sewn onto these materials.
To learn more about specific Heat Seal guidelines for each adhesives, visit our Technical Support Page.