How to Bring Uniforms into the 21st Century with Embellishment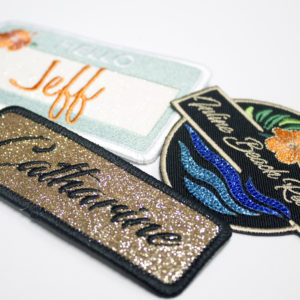 What's in style is ever-changing, making it important to stay on top of the trends so your brand doesn't get left behind. Uniforms are often one of the first things people see when meeting employees or walking into a business. It's crucial to ensure that garments allow your employees to look and feel their best. Uniform embellishment with new and innovative decoration solutions can easily provide a modern and updated feel to your brand, all while maintaining the brand image.
Add Sparkle

Adding a little bit of glitter to your brand's embellishments can add an on-trend touch to any design or logo. Using gold or silver glitter can increase a garment's perceived value, attributing positively to a brand's reputation and trust. Glitter can also be utilized in hospitality and retail professions to catch the eye of potential customers.
Combine Products for Something New

Emblems are fully customizable; which means there are limitless opportunities to create unique decoration for your uniforms. Double the protection for transportation and road workers by combining a High-Visibility product with reflective threads. You can make a plain appliqué pop with some puff embroidery. Almost any emblem technique can be combined or altered to fit your brand's needs. Penn Combination patches allow for unlimited ways to make sure your brand is on trend.
Get a Sublimation Station
With its colorful and vivid full photo reproduction, sublimation can bring brands to the next level. These emblems can be an alternative to traditional appliqués, as they can be hand cut to any shape or size. Sublimation will print your photos in full detail, making sure complex logos or designs are captured on the emblem. With a sublimation printer, a heat press, and blank emblems, you can make emblems in-house for new hire name badges on demand.  Sublimated Emblems are durable and will not crack or fade under harsh working conditions.
Penn Emblem Company is the leading provider of emblems, labels, transfers and various other decoration solutions. Find out how to start decorating your brand today by contacting our Customer Support Team by clicking here.