How to Get Inspired for Fall with Sublimation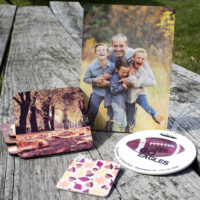 Now that Fall is in full swing, you can inspire your customers with sublimation. Sublimation makes it easy to fully customize a variety of unique products designed specifically to your customer's needs. These are our favorite products to get into the Fall spirit.
Blank Bag Tags can easily be customized with names, streets and phone numbers, increasing the perceived value of the item. These bag tags make it easy to spot luggage in busy airports, and provide your customer's information printed professionally on the tag so that it'll never get lost. Bag tags work well for duffel bags too, include your customer's team logo for an added personal touch.
Keychains are easy giveaway items for parties, awareness walks and family gatherings. With sublimation, designs are printed in photo quality color and will not chip or fade with use. Sublimate your customer's family photos, event logos and creative designs for a simple and inexpensive giveaway option that will commemorate their event or business.
Customers can permanently sublimate their family photos and artwork directly onto blank Photo Stands to use as home decor or a desk ornament.
Blank coasters are versatile all year long and can be designed for a variety of different holidays, seasons and events. Blank Coasters can be decorated with Fall themed artwork and photographs to add a little bit of Autumn aesthetic to events, parties, or even just the home.
Everything you need to get started is available from ImprintsUSA, your one-stop-shop for blank imprintables and sublimation systems. Order your blank imprintables and sublimation systems from www.ImprintsUSA.com, a subsidiary of Penn Emblem Company. Email Lynne Kaplan, the sublimation expert, for any questions or inquiries on how to be successful with sublimation.