Penn Emblem Celebrates Breast Cancer Awareness Month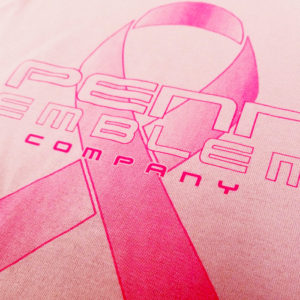 In honor of Breast Cancer Awareness Month, Penn Emblem Company is having an entire a month of "Dress Down Days". Employees are able to pay a small fee each day to wear jeans and sneakers into the office. The money collected from this event will be donated to the Fox Chase Cancer Research Center in Philadelphia, PA, which supports breast cancer awareness research.
October is National Breast Cancer Awareness Month bringing attention to the most commonly diagnosed cancer in women. Penn Emblem is a woman owned business, feeling a social responsibility to give to an important cause. The company has several employees who have had Breast Cancer or had family members with the disease.
Penn Emblem has provided many companies and organizations with high quality, innovative decoration solutions for three generations, and continues to uphold its products and employees to the highest standard every day.