Penn Emblem Company Launches Full Breast Cancer Awareness Collection for Charity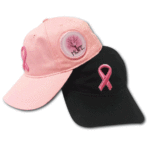 Penn Emblem Company is now offering an exclusive line of Breast Cancer Awareness accessories to raise money for the Fox Chase Cancer Center. Products for sale include embroidered patches, interchangeable hats, mugs, keychains, and more. October is National Breast Cancer Awareness Month bringing attention to the most commonly diagnosed cancer in women. Penn Emblem is a woman owned business, feeling a social responsibility to give to an important cause. Items will be on sale from now through the month of October. Customers can browse the full product collection, here.
Penn Emblem has provided many companies and organizations with high quality, innovative decoration solutions for three generations, and continues to uphold its products and employees to the highest standards every day.