Penn Emblem Mira Loma Facility Celebrates the Holidays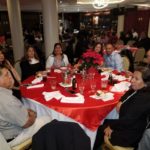 Saturday December 1st Penn Emblem's Mira Loma location celebrated the holidays with a Holiday Party at the Sheraton Ontario Airport Hotel. With approximately 160 of our employees attending, the event was buzzing with holiday cheer. Gina Ramirez, the Plant Manager, thanked all the employees in attendance for their hard work throughout the year. Everyone who attended the party had a great time, taking photos in the photo booth and partying on the dance floor.
We look forward to the new year and all it will bring, and wish good health and happiness moving into the new year!