Penn People – Barbara O'Brien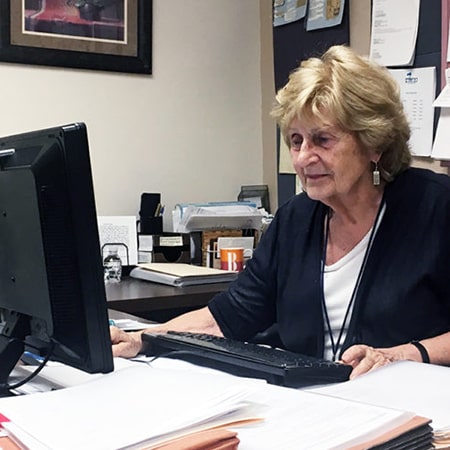 Barbara O'Brien, Senior Executive Administrative Assistant, has played a significant role at Penn Emblem Company for 30 years, bringing a plethora of valuable expertise to Penn Emblem every day. We interviewed Barbara O'Brien as part of our Penn People series, showcasing the many diverse employees that make up the Penn Emblem Family.
What are the positions that you have held at Penn Emblem Company?

I was hired to work in the Accounting Department under the Vice President of Finance in 1986. I worked in that position until 1989 where I then moved to work with the former president of Penn, Robert Blumenthal. After Blumenthal was named Chairman, I worked for several different presidents at Penn Emblem and I was eventually named Senior Executive Administrative Assistant to work with the Executive Staff.
What are your most proud accomplishments?
Some of my most proud accomplishments include my longevity with the company and being a team player. When I started at Penn, some of our team member at that time were 16 years old working part time while at Archbishop Ryan High School. Current president Randi Blumenthal-Joseph was working in the mailroom. I remember her each morning sorting the mail into mailboxes. Seeing all of these team member develop into the position they now hold with Penn has been an awesome experience.
I also pride myself on my ability to get the job done. I am someone that can be relied on to follow Penn Emblem's Core Value Statement: "Do the Right Thing. Do Things Right."
 What are the challenges of your current role at Penn Emblem Company, and how do you overcome them?

I now work on a part time basis, so the challenge is much simpler at this juncture; however, I have always used a little system that I refer to as PARR, (Prepare, Arrange, Revise, Refine) when working on projects.
My main challenge is keeping up with technology; I'm from the era of stenography and IBM Electric typewriters. I can imagine some of our team members saying, "What in the world is stenography?".
What is your favorite part about working at Penn Emblem?

My favorite part about working at Penn Emblem Company is our Team Members. We support each other through the peaks and valleys. We care about one another and we are, as that old time favorite, Sister Sledge Group, sings "WE ARE FAMILY! "
Is there anything else you would like to add?

I am truly appreciative of the opportunities presented to me at Penn Emblem. When I came here in '86, I had been a stay at home Mom for 18 years. I wanted to change jobs every two years and do a variety of work, and then I came to Penn. It's now 2017 and I am still here. I have no regrets. I am thankful to the Blumenthal Family for all of the good years I have spent with the company.
Penn Emblem Company is the leading provider of emblems, labels, transfers and various other decoration solutions. Start your career by checking out our career page for opportunities to join the Penn Emblem Company team.