Penn People – David Braun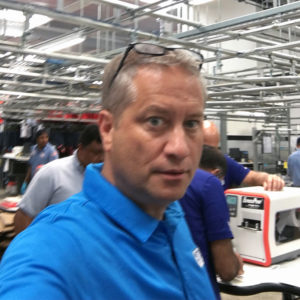 David Braun, Western Division Sales and Service Director, has played a significant role at Penn Emblem Company for 10 years, bringing a plethora of valuable expertise to Penn Emblem every day. We interviewed Dave Braun as part of our Penn People series, showcasing the many diverse employees that make up the Penn Emblem Family.
What positions have you held here at Penn Emblem?
I have held the position of Western Division Sales and Service Director.
What are your most proud accomplishments?
In 2012 I received the Penn Annual Employee Award.
What are the challenges of your current role, and how do you overcome them?
The competition on a daily basis trying to take our business away and keep us out of their customers is truly the biggest challenge of my role.  I differentiate myself from the competition by pointing out the features and benefits of buying and being serviced by Penn.  For instance, consolidated shipments to save on freight as well as Manufacturing in Mexico to save on emblem purchases and quick turn times.
 What is your favorite part about working at Penn Emblem?
My favorite part of working for Penn is that I don't feel as though I work for a company, I feel that I work for a FAMILY.
Penn Emblem Company is the leading provider of emblems, labels, transfers and various other decoration solutions. Start your career by checking out our career page for opportunities to join the Penn Emblem Company team.