#PennPeople – Congratulations to Salvador Ramirez, Penn Emblem's New Manufacturing Engineer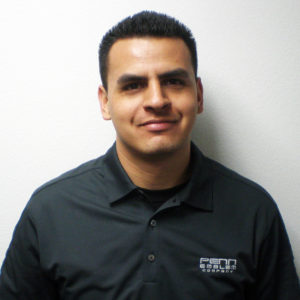 #PennPeople – Congratulations to Salvador Ramirez, Penn Emblem's New Manufacturing Engineer
Penn Emblem Company's #PennPeople blogs spotlight exceptional employees and their achievements.
Penn Emblem would like to congratulate Salvador Ramirez on being promoted from Junior Engineer to Manufacturing Engineer. Ramirez has been with Penn Emblem Company for 3 years and has been utilizing his expertise to create a more productive work environment.
Ramirez looks forward to using his talent to expand his department and streamline Penn Emblem's processes. He has already had his hand in several projects increasing the efficiency of production. Having mapped out the entire 1,000+ step Direct Embroidery Process and reduced to under 100 steps, Ramirez continues to find ways to make it easier to get custom embroidery out to customers to maintain Penn Emblem's fast turnaround times.
Ramirez has also worked on projects to increase the amount of embroidery machines in Penn Emblem's Mira Loma, CA plant and to change the plant layout taking a more systematic approach and making it easier to get product to the shipping department.
Ramirez's favorite part about Penn Emblem Company is the culture. He is surrounded with supportive and hardworking people who constantly treat each other fairly.  "Penn looks for ways for you to grow in the company and finds ways to get you there." He states, talking about how the company fosters the growth of its employees.
We look forward to seeing what Salvador will be able to bring to his new position and would like to congratulate him on his promotion!
Penn Emblem Company is the leading provider of emblems, labels, transfers and various other decoration solutions. Want to work for Penn Emblem? Start your career by checking out our career page for opportunities to join the Penn Emblem Company team.