#PennPeople: Meet Nina Espinoza, a Penn Emblem Digitizer and Customer Support Representative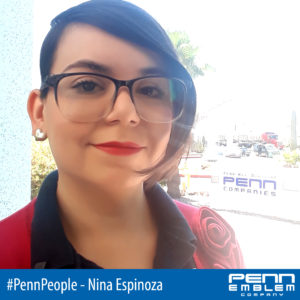 Nina Espinoza has been a critical member of the Penn Emblem Company team for a total of 14 years. A woman of many hats, Espinoza was originally hired solely as a digitizer, but was given the opportunity to expand her responsibilities.
Espinoza has accomplished many things during her time at Penn Emblem, but one of her recent accomplishments is the reactivation of the "Employee of the Month Award" at Penn Emblem's Mexico location. She assisted in bringing the project back after its short break and assisted in creating new guidelines to improve the selection of winners and ultimately growing Employee Morale. "Having this award has been a huge motivation for many of my hardworking colleagues at Penn Mexico," Espinoza states.
A team player, Espinoza always takes the opportunity to learn from other departments. She prides herself on her contributions to Penn including the improvement of the Company's work processes and overall work environment.
"Everything we do in life has to be done with passion," Espinoza sates, "Otherwise we would just be passing by instead of enjoying the ride through life."
Penn Emblem Company is the leading provider of emblems, labels, transfers and various other decoration solutions. Want to work for Penn Emblem? Start your career by checking out our career page for opportunities to join the Penn Emblem Company team.