#PennPeople: Meet Mike Costello, Penn Emblem's Director of Sales and Service (Central Division)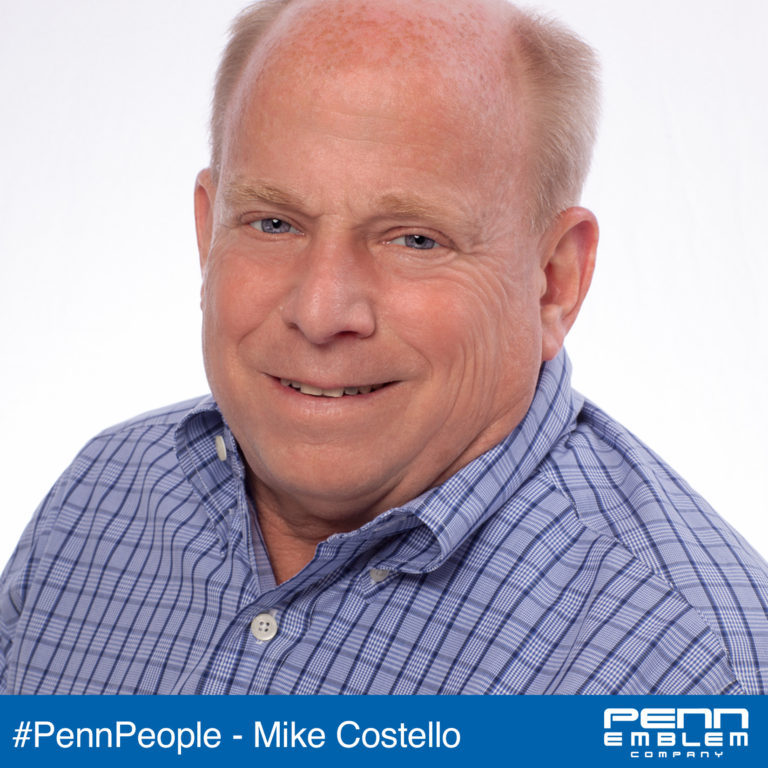 Starting as Regional Sales Manager, but having his title changed to Director of Sales and Service to better fit his role, Mike Costello has served at Penn Emblem Company for 23 years. Costello goes into work expecting something new every day, maintaining contact with Penn Emblem's current customer base to sell new accounts, increase sales within existing accounts, and address any customer services issues in the Central Division. The Central Division consists of 14 states and approximately 320 customers of all different sales volumes and service needs.
Costello prides himself on being able to assist these customers with any service troubleshooting for ID label printers or Penn Emblem's other embellishment services and products. Costello also finds himself speaking to customers and establishing service levels, creating new product sales within existing accounts, or meeting potential new customers. With the help of his teammates at Penn Emblem, Costello can provide his customers what they need quickly and efficiently.
"There are a lot of different service or sales opportunities that are challenges," says Costello, "but I have a great support staff of Technical Support Managers, Customer Service Representatives, Manufacturing Penn Partners, Marketing Specialists, and Upper Management to help me provide answers and solutions to our customer needs."
Many Penn Emblem team members have a lot of experience and Costello finds himself able to ask their advice to resolve and issues.
In addition to increasing the Central Division Sales a reasonable amount since he started his career at Penn Emblem in November of 1995, Costello has also retained most of the company's original customer base within that area. Within that time, he has been able to develop relationships with his customers that go even beyond business and he enjoys seeing these customers grow within their careers at their respective companies. Costello is a three time winner of the prestigious Penn Award, given to only a handful of employees at each Penn Emblem location every year the most recent being awarded in 2018.
Costello attributes his successful career to his team.  "Any success I had at Penn Emblem these past 23 years was never just me, but one or more of my Penn partners to help our customers and myself." We look forward to seeing what he can do next!
Penn Emblem Company is the leading provider of emblems, labels, transfers and various other decoration solutions. Want to work for Penn Emblem? Start your career by checking out our career page for opportunities to join the Penn Emblem Company team.