#PennPeople – Meet Victor Durón Gonzalez, Penn Emblem's Inkjet and Screenprint Design Manager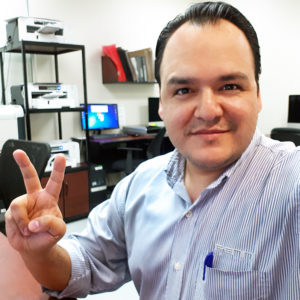 Hired in 2006 in the Graphic Design Department now Inkjet and Screenprint Design Manager, Victor Durón Gonzalez has been working with Penn Emblem Company for 11 years. With experience within the Inkjet Design department and other areas such as inspecting and shipping physical prepros and doing art for direct-to-garment silkscreen, Gonzalez is a multi-talented graphic designer.
During his time with Penn, he has innovated many processes and products in the departments where he worked. He is most proud of being able to produce quality work and go the extra mile as a leader. He likes to utilize the Fish Philosophy when managing his employees. Modeled after the Pike Place Fish Market, this technique is used t make happy individuals alert and active in the work place. "Be There, Paly at Work, Make Someone's Day, and Choose your Attitude," are the central four concepts of the Fish philosophy and Gonzalez utilizes them every day in his work.
"You will see me walking in the plant being involved and always smiling. It's amazing what a smile can do for a person,"  he states.
Gonzalez's favorite part about working at Penn Emblem Company is the fact that he is able to have a career that he is very passionate about. Working in Graphic Design also allows him to constantly foster his skills in the medium, allowing him to explore new avenues of creativity.
"My favorite part is that I can polish my skills in design," Gonzalez states, "I love graphics, logos, fonts, colors, and shapes,"
Gonzalez is truly appreciative of his opportunities that Penn Emblem Company has given him and looks forward to the future!
Penn Emblem Company is the leading provider of emblems, labels, transfers and various other decoration solutions. Start your career by checking out our career page for opportunities to join the Penn Emblem Company team.