We're Moving! Penn Emblem Company Has Moved Its Corporate Office Location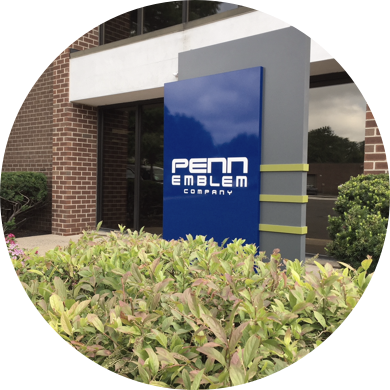 Penn Emblem Company Has Moved Its Corporate Office Location
Effective August 16th, 2018 Philadelphia-based Penn Emblem Company has relocated its corporate offices from 10909 Dutton Road in Philadelphia, PA. A leader in the branding and decorating solutions market, the 71-year-old company's new corporate headquarters are located at:

Penn Emblem Company
2577 Interplex Drive
Suite A
Trevose, PA 19053
All contact numbers, email addresses and this website address (www.pennemblem.com) will remain the same. In addition to Penn Emblem's new corporate headquarters, the custom embellishment company maintains manufacturing facilities in Mira Loma, California and Santa Ana, Mexico. Both facilities are equipped with state-of-the-art automated technologies.
Penn Emblem Company serves a diverse global customer base from the rental-workwear market to sports, promotional and apparel sectors. "Image and identification span many industries. At Penn Emblem, we strive to provide the most innovative, diverse array of emblematic, labeling and customization solutions to meet every type of client need," says Randi Blumenthal-Joseph, President of Penn Emblem Company.
Penn Emblem's relocation is a culmination of the company's 70th anniversary in 2017, during which giving back to the community through fundraisers and volunteering for causes such as Breast Cancer Awareness Month and Hurricane Harvey Relief Fund took centerstage. These programs reflect the company's customer service and production philosophy to always "Do The Right Thing," ensuring that every emblem, patch and label is made of the highest quality and every employee and customer is treated with care.

Call (800) 793-7366 or email ssales@pennemblem.com with any questions regarding the move or how Penn Emblem can meet today's evolving emblematic needs.