WHO IS PENN EMBLEM?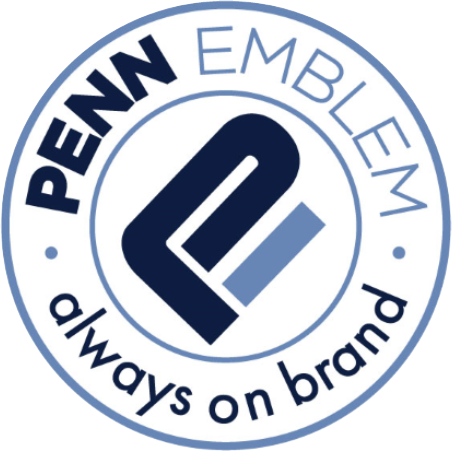 Penn Emblem – A Deeper Look
Penn Emblem is a full-service branded apparel and promotional product company. We are America's largest emblem supplier as well as the premiere full-service brand decorator for the rental uniform and promotional product industry. We begin with customer's initial design concepts and handle the entire process all the way to the final custom decorated products.
Our mission is to deliver high quality products with the same care and attention to detail that we would give to our own family, that will withstand time along side the memories that they are being created for. Whether it be your son's soccer team logo, your daughter's girl scout troop accomplishment patches, your company's edgy rebranding or your local police departments new badges, Penn Emblem is here to help you preserve the memories that may only seem like a stitch in time, but will become a piece of the fabric of your legacy. We are a family company and you will feel that in the work that we produce and the mission in which we stand by.
As your brand decorator, Penn Emblem Company helps brands come to life through innovative embellishment solutions, serving markets such as uniform services, athletic organizations, promotional products, safety and service, military, hospitality, collegiate, ASI, PPAI and more. Penn Emblem's domestic and international manufacturing capabilities proudly deliver cost-effective solutions such as: custom embroidered, woven, silkscreen, sublimation, and screen-printed emblems, appliques, heat transfers, thermal barcode systems, and mending materials. In addition, Penn Emblem Company offers flame resistant and high visibility decoration solutions that meet regulatory guidelines for uniforms in high risk industries. Penn emblem offers a variety of garment decoration services at multiple convenient locations. Our decoration fulfillment solutions begin with picking the most innovative and cost-effective decoration method for your specific project. From flame resistant and high visibility decoration solutions that meet regulatory guidelines to low-cost screen print options that meet your budget goals, Penn Emblem has a full scope of decoration capabilities to provide premiere solutions for your specific needs.
Our History
For 72 years, Penn Emblem has provided customers with high quality, cutting-edge products. Unlike many other companies, however, Penn Emblem has proudly served those customers through the common thread of family for three generations. In 1947, company founder, Frank Blumenthal, began embroidering emblems out of his garage in Philadelphia, beginning with cotton, oval name tags and American flags for gas station uniforms. In the 1960's, he brought the first heat sealable emblems to the industry, completely revolutionizing the rental uniform business.
In 1970, Frank's oldest son, Robert, took the reins, adding new technologies such as screen-printing, to the embellishment industry. For years, Penn Emblem Company cultivated new business through innovative systems and designs, continuously remaining the market leader and industry trendsetter.
In 2010, Frank's granddaughter, Randi Blumenthal-Joseph, became the third generation of leadership to continue the legacy of quality and innovation, while also shifting the company to become certified as a Woman's Business Enterprise, to better support clients focused on supply chain diversity, and to proudly represent female leadership. Penn Emblem continues to serve customers worldwide with an ever-growing array of image and identification solutions today under Randi's leadership and through the fibers of Penn Emblem's rich history.
Many companies can deliver quality products, but only Penn Emblem Company threads generational pride and heart throughout everything we create, to produce the best representation of your event, company, brand, sport and more. For all types of emblematic identification, Penn Emblem will proudly make the process seamless, from our stitches to yours.